US officials investigated Brown after he was accused of inappropriate behaviour at a party in Samoa and was alleged by one woman to have stared at her breasts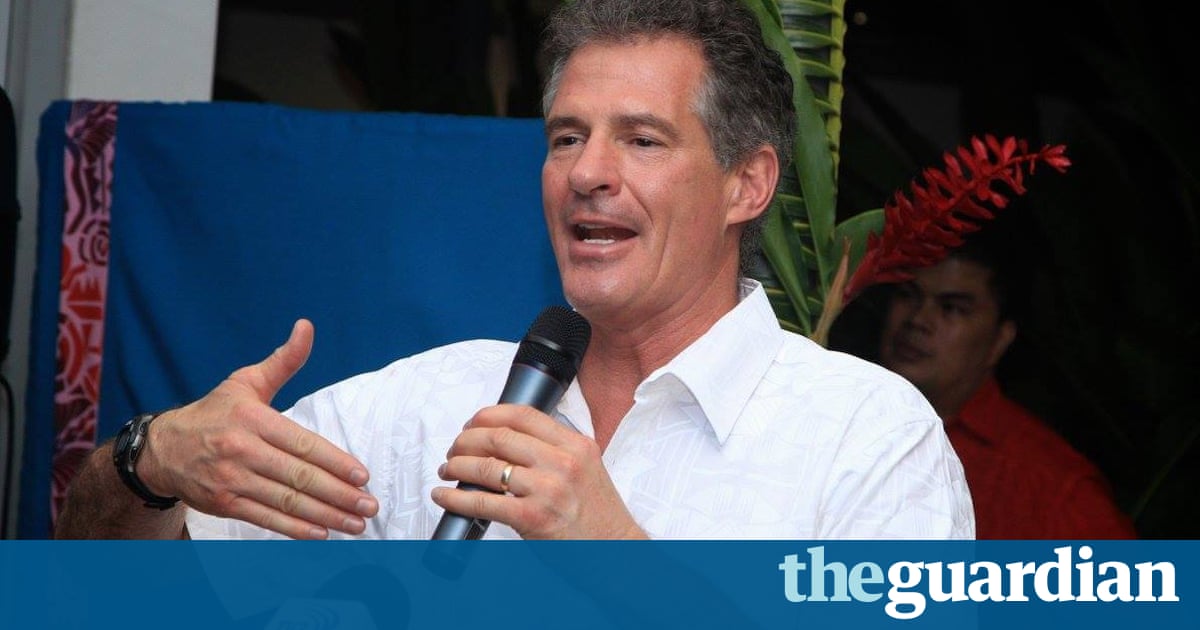 It was a balmy 32 degrees when the US ambassador to New Zealand, Scott Brown, touched down in Apia, the capital of the South Pacific island nation of Samoa.
Brown had flown in with his wife, Gail Huff, in July for a party to celebrate 50 years of the peace corps in the country. It was his inaugural visit to Samoa of which he is also the official US representative and one he was looking forward to.
The party was intended as the climax of the ambassadors trip, a night for celebration. People were in high spirits. They were offered beer, wine, champagne and local hors doeuvres, including slices of taro topped with palusami, spring rolls and chicken skewers.
But something went wrong that night. As one attendee describes it, something was off, and the party has been at the centre of a US state department investigation over the ambassadors conduct towards two women.
On Wednesday, Brown admitted he was being investigated by officials who had flown to Wellington, New Zealand, to interview him.
Brown said he wanted to address innuendo and rumour and claimed he had been admonished for praising the appearance of several attendees of the party. He also said he had remarked that the waiting staff were good enough to earn hundreds of dollars in the US.
Brown responded to the allegations by saying that even though two people may speak English, they sometimes do not understand each other.
But the Guardian has, over the past two months, spoken to multiple witnesses who attended the party who claim the behaviour of the ambassador the first appointed by the US president, Donald Trump was worse than he has admitted.
It is understood that two complaints investigated by the US state department against Brown originally came from two female peace corps volunteers who were at the event, and who served food and drink to the guests as a way to flip the cultural norm of Samoans serving westerners.
But in addition to these complaints are others that the ambassadors behaviour was shocking, culturally insensitive, rude and undiplomatic. The Guardian contacted more than a dozen people who attended the party and spoke to a number who said he had made them feel uncomfortable.
One woman told the Guardian that Brown allegedly stared at her body when she was introduced to him. She did not want to be identified, but said: The first time I met him, he looked at my chest immediately. She alleged that another female colleague had a similar experience.
I felt immediately uncomfortable and it didnt feel right, she added.
A male ex-peace corps volunteer described a strained atmosphere developing at the party as the ambassador shouted at guests to be quiet and listen to him. It was very culturally insensitive, said the man. He just did multiple things in 15 seconds that really put me off, and looking around [I] saw it put off a lot of other people as well.
At least twice, maybe three times, he was telling everybody, Stop talking, be quiet, listen to me.
Another ex-peace corps volunteer called Browns speech really pompous and sort of shocking. The man, who again did not want to be named, said he approached Brown after his speech, hoping to gauge the man representing his country.
The former volunteer described their exchange as candid, and claimed Brown became aggressive when he mentioned he was disappointed by Trumps actions following his inauguration. According to the volunteer, Brown angrily told him to get over it.
A lot of people were really upset by the tone of his speech that night, said another attendee. He was rudely shouting everyone down. After the speech I was so put off I didnt approach him. I wanted no personal contact with him.
Another ex-peace corps volunteer who attended the party told the Guardian: I know someone who works at the US embassy and he said Scott went totally off the book [in the speech].
He said something like, When Kennedy started the peace corps 100 years ago, so it seemed he didnt really know what he was talking about.
The Guardian approached a dozen members of the peace corps currently serving in Samoa. None of them denied the original allegations of inappropriate conduct by Brown towards two female peace corps members, instead referring all questions to the country director. Two said they had been barred from speaking to the media, even though they wanted to.
Brown has not spelt out the details of the allegations being investigated. The Guardian is, however, aware of their nature and has put them to Browns representatives, the state department and the peace corps.
The peace corps country director for Samoa, Dr Sherry Russell, when contacted on the telephone by the Guardian in August, said: I dont want to make any comment right now to anything youve said. I am unable to do so I cant confirm or deny. I am hanging up on you now.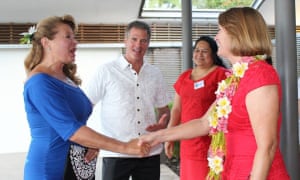 Read more: https://www.theguardian.com/world/2017/oct/26/scott-brown-more-complaints-surface-over-behaviour-of-us-ambassador-to-new-zealand